1968 Volkswagon Bus with Windmills
1959 Cadillac with Palm Trees
These cars were rolling sculptures that abused fossil fuel. Flying down the freeways in the 1960s with the biggest tail fins ever made, they looked especially good in Beverly Hills or West Palm Beach. By the 1980s they could be found abandoned in weedy lots, trees growing through them. This Caddy rolls on its wheels has palm fronds that detach. The body paint (glaze) shows some ware of neglect.
Stoneware, Cone 10
L21" x W7.5 x H12"
2014
1967 Pontiac GTO with Steam Shovel
When oil runs out and all thats left of carbon deposits is coal, your car will need a steam shovel to obtain that filthy fossil fuel that you crave. So why not have a gas guzzling '67 GTO. They were beautiful, looked like they were going a hundred miles an hour while standing still.
Gatsby frees the dust bowl
1932 Chrysler coupe
Imagine the great Gatsby, a 1% club member fleeing with all his earthly possessions' from the dust bowl in Oklahoma circa 1932. Do you think he might bother to tie down the furniture?I think not, would his girlfriend, a Degas ballerina ride on top? I think so.
Stoneware
Cone 6 oxidation
20.5" x 11.5" x 9"
2017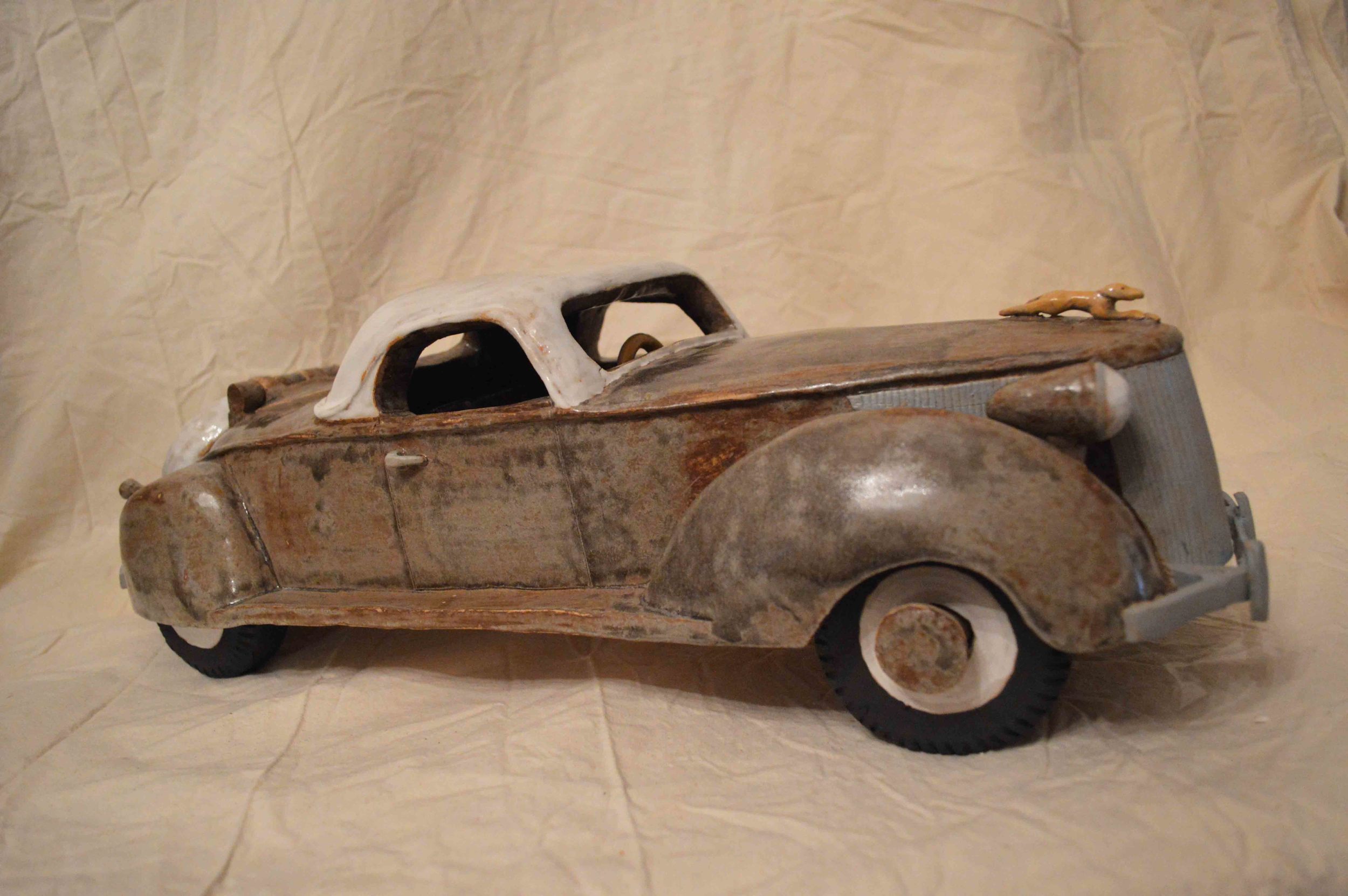 1936 Ford three window Coupe
This car was made in 2014 at Greenwich House from stone ware. It was fired at Art School at Old Church in New Jersey to cone 6. It took 9 months to complete.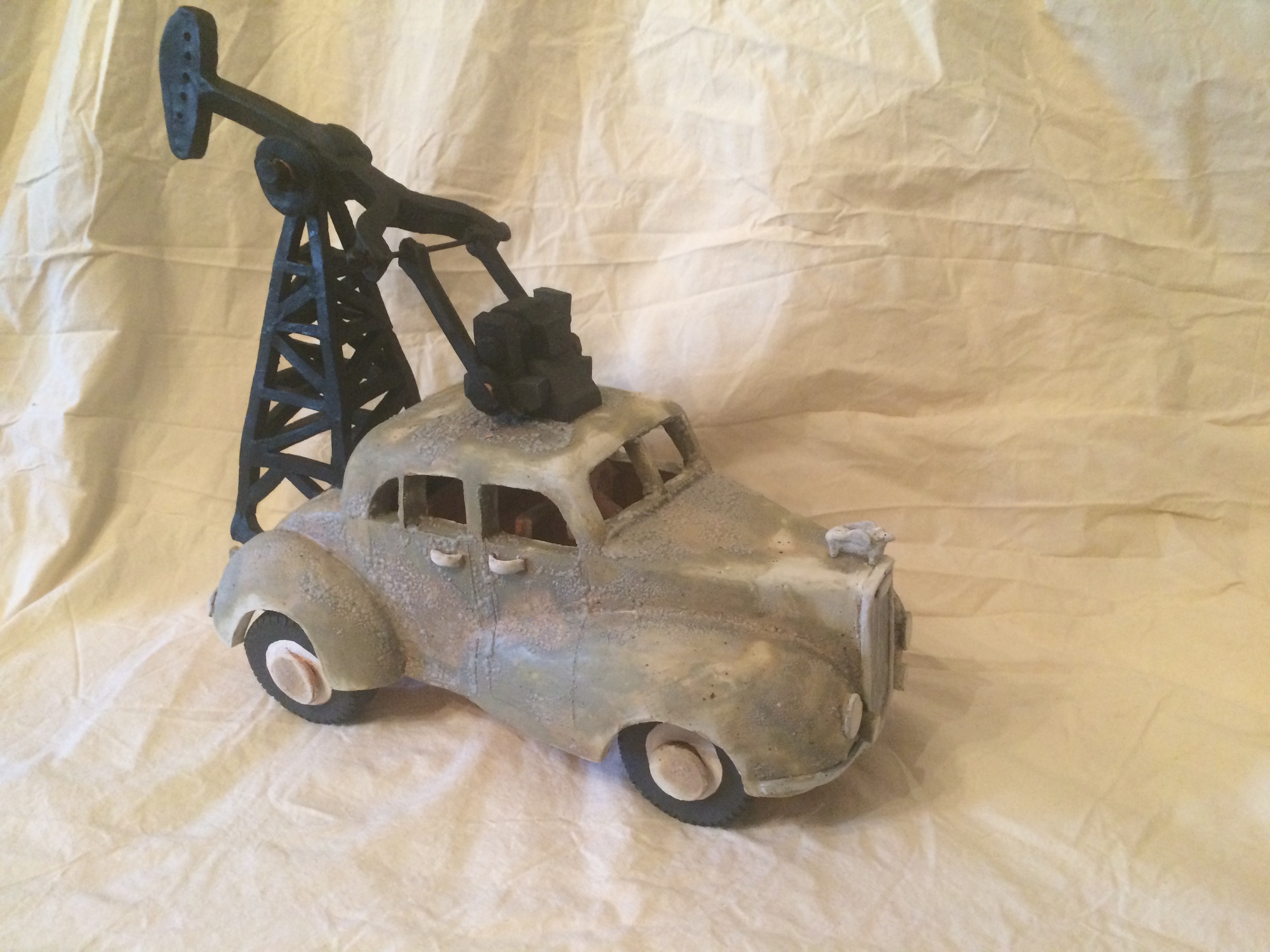 1948 Wolesley Car with Oil Derrick
1936 Chevy Woody Wagon
Back doors and side doors are hinged and it owns two surfboards.
1948 Ford Anglia
A British ford. Fine design if a little stodgy. Made at MMC in 2013 of soneware. Cone 6 oxidation firing
1932 Auburn Speedster
This car was made at the Museum of Arts and design in 2011. It was bisqued at the museum and glazed and fired at cone 6 again at MMC
55 and 57 Chevy
'55 in front and '57 in the back. This Chevy was made and glazed at Greenwich House in 2010
Peters Perfume truck. A truck that emits perfume rather than carbon monoxide. Would that not be a fine idea?
1930's Ford Truck, 2010. The first vehicle, glazed in Val Cushing green and blue. Feels like its been in the desert too long, perhaps it was in the kiln too long
1935 Bugatti Atlantic, 2010. this is glaze in Charlie d black over Tenmoku. The design was a precurser for Talbot Lagos and Jag XKE's
1969 BMW R69. A dedication to my cousin Ted who passed away way too soon. Stoneware clay fired to cone 2 reduction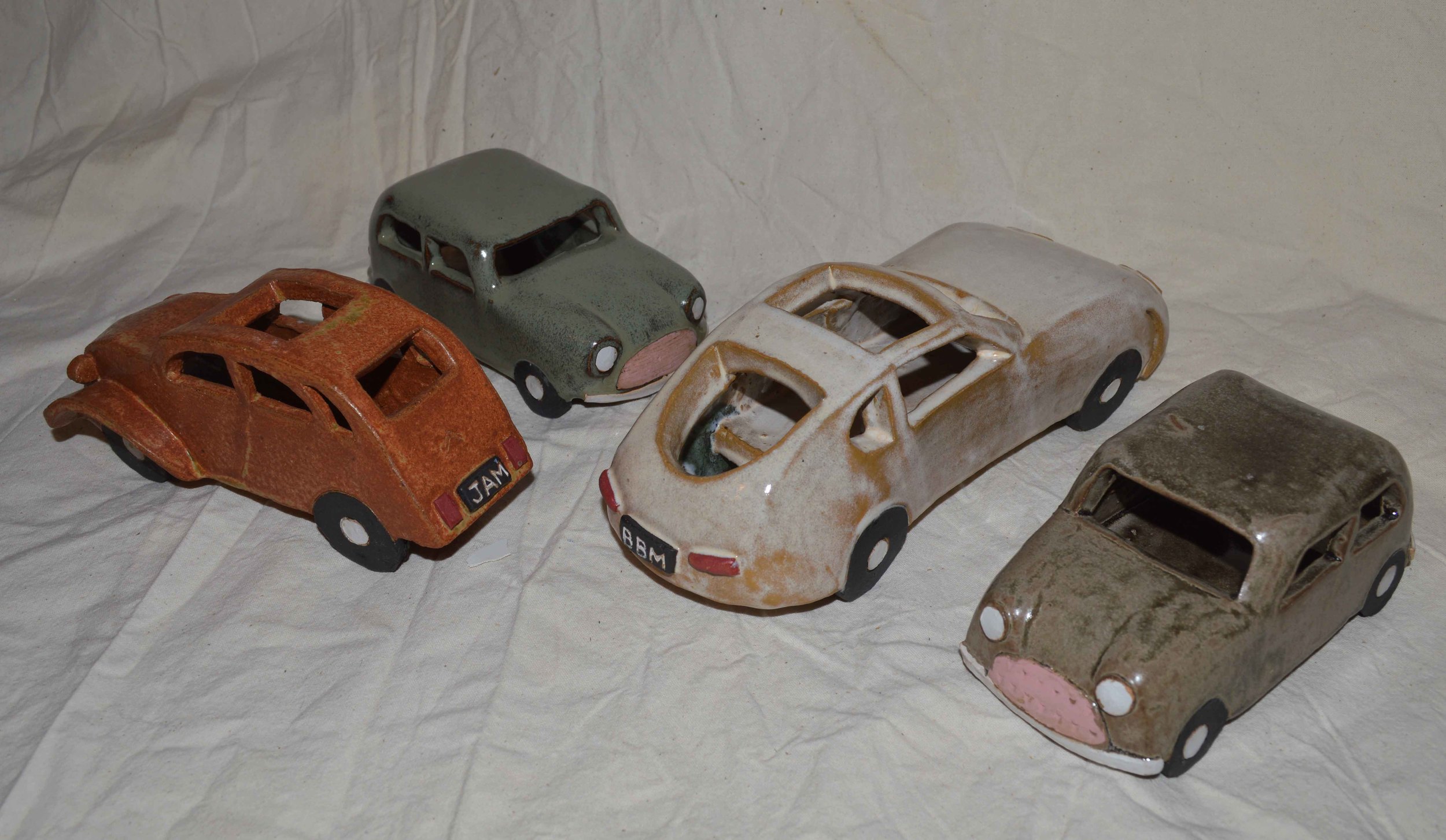 Template Cars
These mini cars are made from paper templates applied to slabs of clay.